Over 10,000 satisfied customers
Excellent set of silicone mats!

The mats are very easy to clean. Food slides right off or easily wipes off. I like having a mat sized for most of my pans. Great price, too.

Sonshein
A great set!

This has been my favorite set so far...I love that this set includes the round and square shapes as well as the standard ones. They work and clean up as expected. This appears to be a great value and a really nice set.

T. Candace Lillis
The BEST silicone baking sheets!

These silicone baking sheets are THE BEST! The food does not stick at all! Makes for very easy clean up. They are great quality. Highly recommend these.

Jason Bailey
At KPKitchen, we believe that the family is the most important thing in life and every mom loves to put a smile on her child's face, even if it's with some small self-made pastries.We serve busy moms who still take the time to bake for their children because there's nothing more satisfying for a mom to see her child's face when taking the first bite of their homemade pastry and find out it does taste as good as it looks.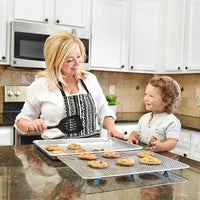 Our baking tools are made of the highest quality materials focusing on making your life in the kitchen easier while your kitchen will stay clean and neat while doing that. And you know what? You will spend less time in the kitchen and spend more time enjoying your delicious baked goods with your loved ones.
Happy Customers
Customers from all over the world love our products!